Audio alarm as an intrusion deterrent

Audio system for broadcasting announcements for deterrence purposes as a support to perimeter alarm systems protecting critical installations in large areas

---
Our partner EON SYSTEM, which operates in South Korea, submitted to us the request of one of its customers, who manages several power plants including the one in Pyeongtaek that is the subject of this first project, for the development of a solution that would allow control room staff to interact in real time with those who were trying to force the perimeter fence installed to protect the plant.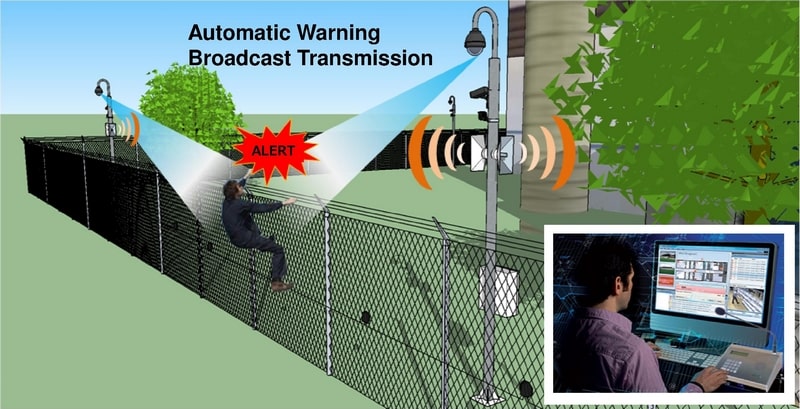 Scheme of the system installed in Pyeongtaek (SOUTH Korea)
It should be noted that EON SYSTEM had already planned to install along the site fence a perimeter alarm system divided into zones, each of which would be monitored by IP cameras whose images would be displayed at the control room so that staff could monitor events in the proximity of the alarmed zone.

Ultimately, the request consisted in integrating the usual perimeter protection system with an audio system that, when the alarm was triggered in a given area, would automatically broadcast an audio message previously stored for deterrence purposes and also allow the operators of the control room to interact in a more targeted manner with the intruders, visualized by means of the CCTV system, broadcasting more specific warnings by means of a microphone console.

More about IP public address systems


Despite the size of the area to be covered and the considerable distances involved, the problem was easily solved by using the SoundLAN family of IP amplified audio gateways.

The gateways were installed one for each zone into which the alarm system is splited and were connected to the control room using the same data network infrastructure already in place for the connection of the IP cameras.

The message to be broadcast for deterrence purposes has been memorized on each gateway and is automatically reproduced on the basis of a command generated by the relevant section of the perimeter alarm system; the control room operator can interrupt the broadcasting of the automatic message at any time in order to switch to the broadcasting of live announcements via the IP microphone console installed in the control room.



Dangjin Power Plant (South Korea)


IP amplified audio gateways were also used at the Dangjin thermal power plant, also in South Korea, to solve another problem related to the fishing ban in force for safety reasons in the waters in front of the plant.
Despite the prohibition, many people often enter and fish in the prohibited areas to fish illegally, to warn and ward off these intruders, an IP public address system has been installed along with a camera system in several places around the station obtaining excellent results.


All in all, the gateways in the SoundLAN family are a practical and efficient solution for integrating a public address system with other types of security systems.


If you would like more information, please contact us by filling in the form HERE !

ERMES ELETTRONICA s.r.l. - Via Treviso, 36 - 31020 SAN VENDEMIANO - ITALY
Phone +39 0438 308470 - Fax +39 0438 492340 - email: ermes@ermes-cctv.com