| | | |
| --- | --- | --- |
| | | |
IP intercom, IP public address, IP emergency call boxes

Communication apparatuses Over IP suitable to used in systems like IP intercom, IP emergency call boxes, IP public address and audio communication special systems
---
| | |
| --- | --- |
| | ERMES is an Italian company leader in the design and production of a complete and versatile range of Over IP audio equipment such as IP intercoms, IP emergency call (SOS) units and IP public address systems. |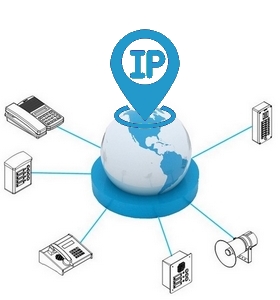 The use of VoIP techniques for processing the audio signal makes it possible to set up installations in areas of any size, both locally and geographically, eliminating the distance limitation typical of analogue audio systems.

Another advantage of IP intercoms, IP public address and IP emergency call (SOS) systems is that they do not require costly cable networks dedicated exclusively to the connection of equipment, as required by analogue systems, but can be connected to a data network, even an existing one, shared with other systems without the risk of mutual interference, thereby reducing costs and speeding up installation.

Each IP audio device produced by ERMES connects directly to the data network using P2P communication techniques and therefore does not require a server on which to install software or any other type of central unit to manage the system, ensuring quality audio with a high degree of system reliability.

Finally, the possibility of using LTE/4G connections and of powering the equipment with photovoltaic panels makes the systems independent of the availability of any physical infrastructure at the point of installation, thus further extending the possibilities of use.


ERMES Over IP audio devices, whether they are intercoms, public address or emergency call devices, are all based on the common features listed below which make it possible to integrate them into a unique system even if they belong to different families:
| | |
| --- | --- |
| • | all devices are IP native, handle the data network connection directly and can be installed on both LAN and WAN without interfaces, adapters or other intermediate devices |
| • | for specific needs, systems using GSM/GPRS and LTE/4G are available |
| • | all devices use the same Peer-To-Peer protocol (direct communication between devices) and therefore the composition of these systems does not require the presence of servers or other central management equipment |
| • | all equipment implements self-test functions that continuously check the efficiency of the system |
| • | all equipment can be programmed and monitored remotely and therefore maintenance can be managed remotely via LAN or WAN |
The available range of IP Intercoms makes it possible to install these systems in commercial areas, airports, railway stations, industry and sports facilities both indoors and outdoors.
IP addressing and the P2P protocol make it easy to set remotely each intercom, vary the call structure as well as to expand the system simply by adding new equipment to which new IP addresses must be assigned. (more).


IP public address is the better solution to adopt, especially when systems need to be installed in large areas where the cost of laying cables required by an analogue system is a major factor.
The IP solution for public address systems allows you to easily change the configuration of zones as needs change over time while safeguarding your initial investment. The versatility of the sound distribution zones makes these systems particularly useful in airports, railway stations, sports facilities, hospitals, etc. (more).


SOS pillars in IP are suitable for installation in city areas, sports facilities, parks, bicycle lanes, railway or metro stations, airports and wherever the high number of people makes it essential to provide quick and effective help.
All SOS IP pillars have been designed to make them easier to use for disabled people and are manufactured in versions suitable for different installation options according to their specific use (more).
ERMES uses a single protocol for all its IP products so that equipment from different families, such as intercom, public address and emergency calls, can be used in the same system and managed from a single control station.
This makes it easy to develop solutions for use in specific areas such as interaction with alarm systems when someone tries to breach a protected area or in public transport systems to provide passengers with information and assistance in the event of an emergency.


ERMES let you to solve in reliable and cheaper way the problems involved in the installation of:

If you would like more information, please contact us by filling in the form HERE !

ERMES ELETTRONICA s.r.l. - Via Treviso, 36 - 31020 SAN VENDEMIANO - ITALY
Phone +39 0438 308470 - Fax +39 0438 492340 - email: ermes@ermes-cctv.com
IP intercom, IP emergency call boxes, IP public address