| | | |
| --- | --- | --- |
| | | |
Intercom for medical areas and operating theaters

Flush-mounted IP Intercom for operating theatres, pharmaceutical laboratories and clean rooms
---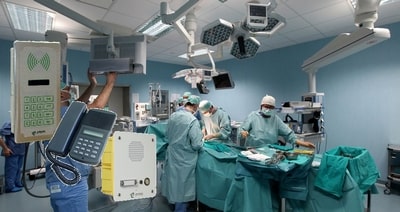 In the hospitals, the special areas like the surgery rooms, the intensive care ward or the medical analytical laboratory require a special type of IP intercoms that must have special features matching the specific requirements of these environments
Even these IP intercoms use VOIP techniques to transfer the audio signals and the control data over the network, they are IP native and they use the LAN or the WAN to connect the apparatuses. These IP intercoms use the same protocol of all the other IP intercom produced by ERMES and therefore you can use them jointly with any other apparatus of the EASY family.
For this purpose ERMES produces the InterLAN-EM.PP

This intercom of the EASY Series has been specially designed for use in rooms used for medical diagnostic activities, therapeutic, rehabilitative and surgical and particularly in the "patient area" that is, the volume in which a patient may come into contact, either intentionally or accidentally, with medical equipment, either directly or through other people.

The general features of these IP intercoms are the same of all the intercoms of the EASY family inasmuch this apparatus uses the same electronic board and therefore it is fully compatible with all the apparatuses of this family.
The main feature of this version is the high resistance to contamination, the ease ensured during cleaning and sterilization as well as the high resistance to disinfectants usually used in health care.

The front panel is made of aluminum with a thickness of 3mm suitably treated to ensure resistance to chemical agents and is fixed to the recessed box with a snap system with high mechanical resistance that, among other things, ensures a degree of protection IP66.
The insulating film on the front panel protects the microphone, speaker, the combination keyboard and the LCD display and is made of a special material with antibacterial characteristics.
As for the power mode you can choose between the POE and an external power supply (12 or 24 V). (Download documentation HERE)
In which areas you can use the communication systems over IP?
The communication systems Over IP satisfy a wide range of needs in the hospitals, in the nursing homes and in the health care structures. Below you can find a short list of cases that require the use of a communication system, but in general these systems can be used every tome that you need to transfer the voice or the sounds. The communication systems Over IP offer solutions for:
the intercoms installed near the doors that allows to enter into the restricted areas such as the intensive care, the neonatal ward or the delivery room
the intercoms that allow to communicate between these areas and the other offices in order to reduce the traffic of people between these special areas and the other areas
in general the intercoms that allow to communicate between the different departments and services in reliable and quick way
the audio monitoring of the patients
the public address systems that allow to make announcements in the waiting rooms
the public address systems and the paging systems in all public areas
the intercoms, emergency call boxes and the public address systems installed in the parking areas
the technical areas (explosion proof areas included)and the maintenance center

If you would like more information, please contact us by filling in the form HERE !

ERMES ELETTRONICA s.r.l. - Via Treviso, 36 - 31020 SAN VENDEMIANO - ITALY
Phone +39 0438 308470 - Fax +39 0438 492340 - email: ermes@ermes-cctv.com