| | | |
| --- | --- | --- |
| | | |
Special use IP Intercoms

IP Intercoms for prison cells, operating theatres, clean rooms, emergency calls (SOS)
or food processing rooms

---
| | |
| --- | --- |
| | The IP Intercoms produced by ERMES are also available with special features when they are intended for installations where special characteristics are required in terms of both functions and environmental protection. |
Some of the IP Intercom versions with special features are listed below:
These IP Intercoms have the same general characteristics as the other EASY Intercoms; in particular they use the same P2P protocol and implement the same operating modes, so there are no particular restrictions on the use of equipment from different groups in the implementation of installations.
Intercoms for operating theatres and clean rooms
The InterLAN-EM.PP and InterLAN-EM.5P Intercoms are specially designed for use in operating theatres, diagnostic, therapeutic and rehabilitation rooms, sterilisation chambers and rooms where sterile medical devices are manufactured or processed.

In specific terms, these IP Intercoms are suitable for use in Group 2 rooms in the so-called "patient zone", i.e. the area in which a patient may come into contact, either directly or accidentally, with medical equipment.

These areas are subject to environmental control of bacterial contamination and therefore it is a prerequisite that any equipment installed in such areas is easily sanitised; InterLAN-EM.PP is suitable for use in areas regulated by international standards ISO 14644, ISO 14698 and GMP EU vol4.


As well as in areas dedicated to medical treatment, this equipment is suitable for installation in so-called "clean rooms", i.e. in all those rooms where, due to the particular nature of the operations carried out there, the equipment installed there must be extremely clean and resistant to contamination.

The front panel is made of 3mm-thick aluminium, suitably treated to ensure resistance to chemical agents, and is fixed to the flush-mounted box with a highly mechanically resistant snap-fit system which, among other things, guarantees an IP66 degree of protection.
The devices, supplied complete with a wall-mounted flush-mounting box, have a flush-mounting depth of only 36 mm and are therefore suitable for installation in the equipped walls of operating theatres.
The microphone, loudspeaker, combination keypad and LCD display on the front panel are protected from liquid penetration by an antibacterial film that inhibits the growth of bacteria on its surface. (Download documentation HERE)
Intercoms for detention cells in police stations and prisons
This is a version of the IP Intercom system specially designed for use in detention cells and is used both in temporary detention cells in police stations and in cells in prisons.
The main features of this equipment are its mechanical robustness and the anti-vandalism solutions adopted, which prevent damage and tampering.

The apparatus is made entirely of stainless steel, including the wall-mounted box on which tear-proof slats are provided for anchoring it to the masonry and preventing it from being torn off; the front panel is made of 3mm-thick stainless steel and is attached to the flush-mounted box with tamper-proof screws that also provide for the possibility of sealing the head.

The panel contains a microphone, loudspeaker, call button and LED indicator light; all these elements are particularly robust and protected by tamper-proof features.

The intercom meets all the requirements of the guidelines for intercom systems in prisons, including the availability of auxiliary I/Os that can be used, for example, to connect an external call button located in the bathroom or to control a signal lamp installed outside the cell and activated by the prisoner's call.

It also has a high-powered loudspeaker that can be used to play announcements inside the cell (public address function) which the operators can make from the same console used to manage intercom communications or from specially dedicated consoles.

For broadcasting announcements in areas not covered by Intercoms (e.g. corridors, common rooms or outdoor areas) amplified audio gateways can be used to drive 100V loudspeaker lines. (Download documentation HERE)
Intercoms for emergency calls and safe areas
The EASY range includes IP Intercoms in a specially designed mechanical version and with specialised management software. to implement the emergency call unit function.


These devices, available in both indoor and outdoor versions, are designed to allow those who find themselves in difficulty to contact a central location easily, quickly and efficiently so that staff can promptly handle calls and provide the most appropriate assistance the user needs.

The Help Points are intended to be installed in areas with high public attendance that present critical security issues, such as city squares and streets, parks, railway stations, metro stations, bus stops, sports facilities, university campuses and in all those cases where the presence of an SOS column is not only a concrete help, but also a deterrent that discourages criminal actions.

In the design of these help points particular attention was paid to adopting a series of measures to facilitate use by people with different types of disabilities and therefore these devices are very suitable for installation in quiet spaces. The help point has pre-recorded audio messages and LED lights to facilitate its use. It can also be equipped with a magnetic induction system to facilitate speech understanding for people with hearing difficulties who use hearing aids. (Download documentation HERE)


Intercoms for kitchens and food industries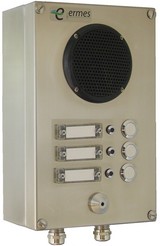 InterLAN-E.4P/I
This intercom from the EASY range has a housing made entirely of AISI 316L stainless steel, making it suitable for use in environments where food is handled and where easily sanitised equipment is required.

In addition, thanks to the special glass-filled polyester loudspeaker and the microphone protection device, it has an IP66 mechanical protection rating and is therefore suitable for use in environments with a high level of humidity, such as kitchens.

Finally, the high operating temperature range means that it can also be used in low temperature conditions such as in cold stores.

If you would like more information, please contact us by filling in the form HERE !

ERMES ELETTRONICA s.r.l. - Via Treviso, 36 - 31020 SAN VENDEMIANO - ITALY
Phone +39 0438 308470 - Fax +39 0438 492340 - email: ermes@ermes-cctv.com